Isaac Ruto's ksh 60 million Dairy farm is located at Tumoi Bomet area Kenya Chepalungu constituency. The story about this farm was first published by standard digital Kenya. This farm sits on a 30 acre piece of land and consists of the following;
90 mature cows
63 heifers
Bulls
Friesians
Ayrshires
Isaac Ruto says that each cow in his farm produces 25 to 40 liters of milk per milking session which is done thrice a day. Some of the cows on the farm costs up to 320,000 kenyan shillings with the bulls being the most sought after this is because of the high demand for meat and breeding.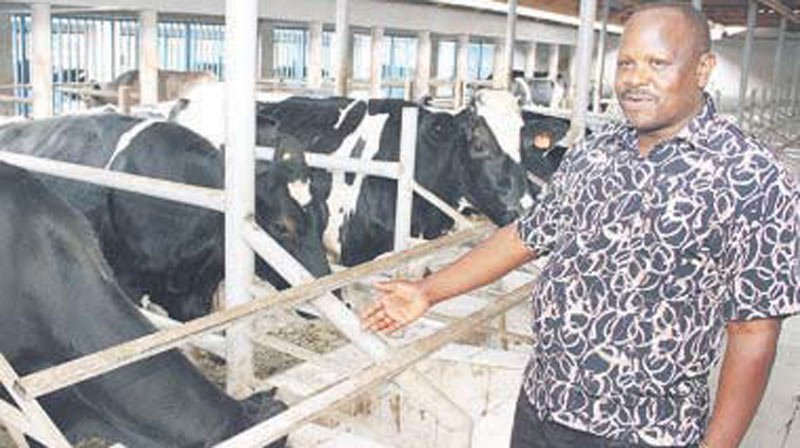 MANAGING THE FARM
Isaac Ruto supervises a team of fifteen farmhands on the dairy farm who helps in managing and doing the handy work on the farm. In the farm is a tractor powered machine which chops and mixes 30 bales of hay mixed with pineapples. When asked about the mixture of pineapples with hay Ruto says that the pineapples not only gives a good taste to the hay but the pineapples are also packed with energy which is important for the cows in his farm.
Inside the farm a cooling unit that can take upto 3000litres of milk is installed. The cooling unit costs of a whooping 5million kenyan shillings
Ruto has some big goals for his farm adding that in a years time they hope to start producing yoghurt and ghee as at the moment the milk from his farm is always taken to the Kenyan cooperative creamaries. Ruto also aims to increase up to 300 dairy cows on the farm with an aim of producing 5000 to 6000 litres of milk per day.
The love of cattle keeping by Isaac ruto is attributed to Paul Tirop a pionner dairy farmer in the south rift region and also his late dad
ruto uses the waste from the farm to generate and produce biogas in the farm which he uses to warm water for the cows and other general uses. The cows in the farm do not consume cold water. The biogas also helps him to power cooking gas for his home
For maximum milk production Ruto tipped that the main objective is the feeding cows with the right diet
To learn more about dairy farming, read our full guide